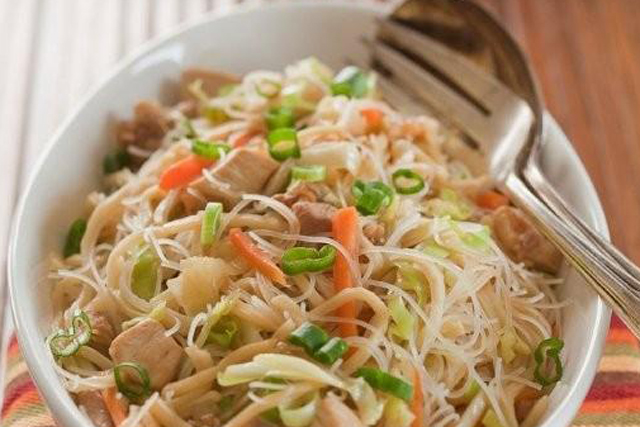 For Valentine's this year, me and my husband both had to work, so we didn't feel like going out to dinner. Instead we stayed in, turned on some nice music, and cooked this delicious Filipino dinner together- which was so much fun. Some friends of ours that live there first introduced us to this dish, and then I found a super easy and yummy version on allrecipes.com (submitted by Rayna Jordan).
It really is a lot easier than you may think. And last night, I decided to do it using only one pot the entire time, which saved me on dirty dishes (yes!). Heat a pot of water on the stove until it's almost boiling, then remove from the heat and soak your rice noodles for 20 minutes. Then drain and transfer to your serving dish. To the same pot, add your oil and heat to medium (not med-high). Put the noodles back into the pot and saute for a minute or two (no longer or you will over cook the noodles). Then transfer back to your serving dish.
Next, I add a bit more oil to the same pot, and cook my pork first. Once the pork is almost done, I start adding the onion, garlic, ginger. *Tip* do not add shrimp until very, very last if they are pre-cooked or else they will be overcooked and rubbery. After I add the cabbage, oyster sauce and chicken broth, THEN I add my shrimp just before I cover and let it cook on med-low for a minute or two until the cabbage starts to wilt. Also, I used sliced cabbage instead of bok choy, but either is great. Sometimes, I even add some soy sauce to my individual servings to add a little extra flavor too. It's up to you! I know others who make this sometimes add shredded carrots and snow peas too for extra flavor and color. It's yummy that way too!
We just love this dish!
Ingredients
1 (6.75 ounce) package rice noodles
5 tablespoons vegetable oil, divided
1 small onion, minced
2 cloves garlic, minced
1/2 teaspoon ground ginger
1 1/2 cups cooked small shrimp, diced
1 1/2 cups chopped cooked pork
4 cups shredded bok choy
3 tablespoons oyster sauce
1/4 cup chicken broth
1/4 teaspoon crushed red pepper flakes
1 green onion, minced
Directions
1.Soak the rice noodles in warm water for 20 minutes; drain.
2.Heat 3 tablespoons oil in a wok or large heavy skillet over medium high heat. Saute noodles for 1 minute. Transfer to serving dish, and keep warm. Add remaining 2 tablespoons oil to skillet, and saute onion, garlic, ginger, shrimp and pork for 1 minute. Stir in bok choy, oyster sauce and chicken broth. Season with pepper flakes. Cover, and cook for 1 minute, or until bok choy is wilted. Spoon over noodles, and garnish with minced green onion.
Gluten free: just double check your oyster sauce and chicken broth and you are good to go! Another reason why I love this recipe so much! :)
Thank you again Rayna Jordan for sharing this recipe on allrecipes.com for us! Love it!