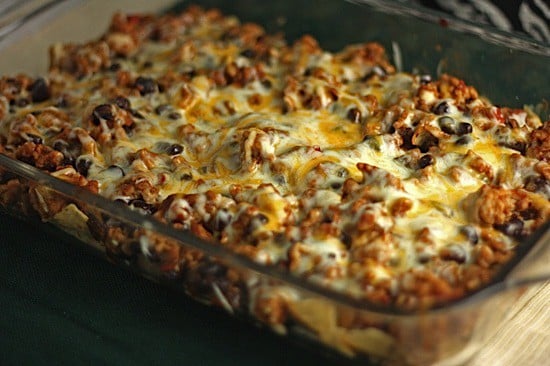 Loved this dish- and my husband did too! Super easy and fairly light tasting as well...at least my version was. :)
I used a little more than 24 tortilla chips for the bottom of the casserole...just eyeball it until it looks good and covered with no gaps. I used extra garlic, because I love it. I also used ground turkey instead of chicken because it is nice and lean and not heavy to eat. I substituted Great Northern beans for the black beans because I prefer the flavor and I used fresh salsa (NOT JARRED). I used a Mexican Blend cheese and added as much as I wanted of that, plus olives on top as well.
I used spicy guacamole and sour cream for garnish and had extra tortilla chips for dipping to add a little bit of crunch.
So so good! Definitely making this one again.
Ingredients
24 Tortilla Chips, plus additional for serving
1 Tbs Chili Oil (or olive oil and red pepper flakes)
1 Onion, chopped
2 cloves Garlic, minced
1 pound Ground Chicken
2 Tbs Taco Seasoning
1 can Black Beans, drained
1 cup Salsa
1 cup shredded fat free or reduced fat Cheese
Optional: Other toppings such as jalapenos, olives, etc.
Directions
Heat oven to 350.
Heat oil in a large skillet. Add the onion and garlic and saute until soft. Add meat and taco seasoning. Cook, breaking up meat with a spatula, for about 5 minutes. Add beans and salsa. Mix well and continue to cook until salsa thickens.
Line the bottom of a large baking dish with tortilla chips, pressing down on them lightly to break them into bite-sized pieces. Spread the meat and bean mixture over the chips and top with cheese. Add sliced jalapenos or other toppings that you ant to be cooked. Bake for 20 minutes or until cheese is melted and gooey.
Scoop up with additional chips if desired.
Gluten free: double check your taco seasoning.
Original recipe and photo from healthy-delicious.com
Thank you, thank you for sharing!