Here is a fun summer dessert recipe that is one of my favorites! This is a recipe that my mother has been using as long as I can remember. I am an oreo fan as it is, but these are a whole new level of goodness! This recipe is simple and yummy- two of the best things when it comes to baking! They come out nice, moist and chewy...mmm delicious! Give 'em a try. Happy baking! :)
Homemade Oreos

1 Devil's Food Cake mix
¾ cup shortening or real butter softened
2 eggs
Cream cheese frosting (homemade or premade, depending on how much time you have)
1. Mix cake mix, shortening or butter, and eggs together. Batter will be thick.
2. Roll into one inch balls and place on cookie sheet.
3. Bake at 425 degrees for 4 minutes on the very bottom oven rack and then 4 minutes on the very top rack.
4. Cool and then apply a generous amount of cream cheese frosting between two cookies.
Now you have the yummiest cookie ever!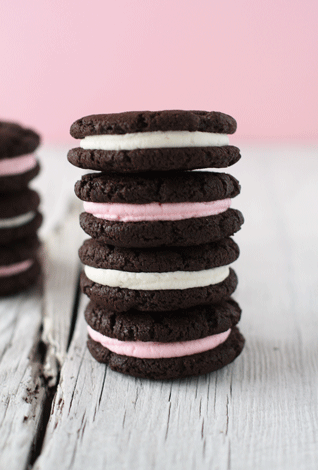 *If you want to add a little color to the cookies, you can add food coloring to your frosting or roll the edges of your cookies in sprinkles so they stick to your frosting. It adds a little crunch. :)
*Tip: I store these cookies in the refrigerator. Helps the frosting to stay a little more firm and the cookie chewy. Soooo good.
(Gluten free: GF devil's food cake mix (Betty Crocker has an excellent one) and your favorite GF frosting.)