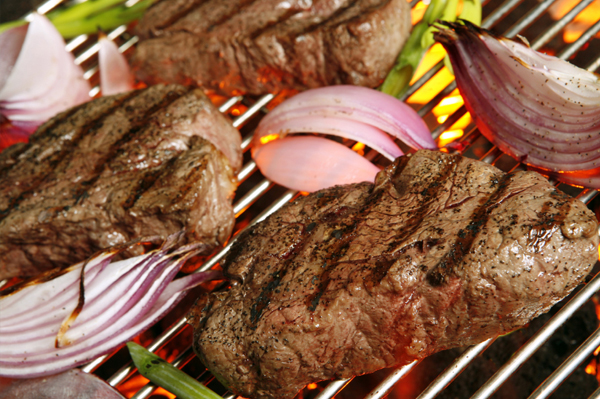 For years now, me and my husband have never known how to cook the perfect steak. Almost always, they are over cooked, or wayyyy too red in the middle. We are medium rare people. I don't know why we never thought to do this before, but this past weekend, we finally sat down to search on the Internet how to make the perfect steak. There are lots of links you can click on and even videos for you to watch, but we found this site and found it particularly helpful. It is very detailed and gives you several different cooking options.
What we did
:
1) Bought two Ribeye steaks (about 3/4 inch thick)- with a bit of marbling, which means it is a fattier steak...lean meat does not cook quite as well...not as juicy anyway.
2) Sat them on the counter about an hour and 15 minutes before we started grilling. They should be close to room temperature.
3) After preparing the grill and steaks as the directions on the link below directs (just sea salt and pepper), we grilled our steaks (with the lid CLOSED) for about 3-4 minutes on each side.
4) After taking the steaks off the heat, we let them rest for about 8 minutes before indulging in their juicy goodness.
http://www.lobels.com/recipe/perfectsteak.aspx
These steaks were melt in your mouth good. They were so juicy and tender. I couldn't believe how good they turned out. I'm sure they will just get better and better too as my husband perfects his steak-grilling technique. :) I served them with a side of roasted garlic and Parmesan mashed potatoes and green beans on the side. Soooo good!! I love BBQ/Grilling season!!
Photo from sheknows.com (who also has some great steak grilling tips and recipes!)
http://www.sheknows.com/food-and-recipes/articles/804579/grill-the-perfect-steak-and-mexicanstyle-steak-recipe