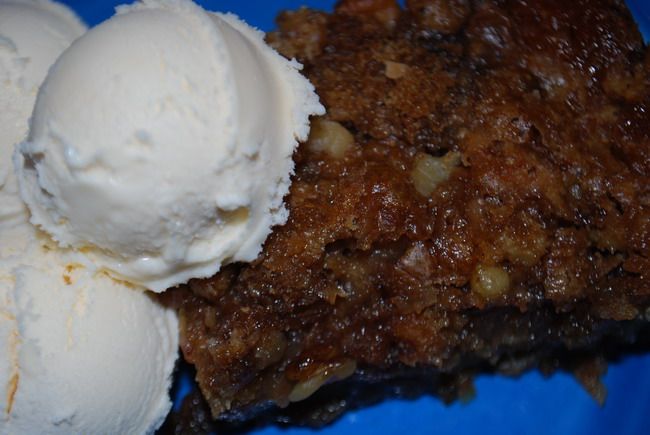 This is one of my absolute favorite cakes. The first time my mom told me about it, I thought it sounded...well, not so appetising. And I'm not gonne lie, even the end result does not LOOK very appetising either. However, she told me that my dad, who does not usually care for sweets, actually went back for SECONDS when he tasted it for the first time. So I decided to give it a shot and it has been a family favorite ever since. This cake is so moist, sweet and melt in your mouth good. Don't knock this one until you try it! :)
Ingredients
Cake:
1 cup sugar
2 cups flour
1 1/2 tsp salt
2 tsp baking soda
2 eggs
1 can fruit cocktail (undrained)
1/2 cup brown sugar
Drizzle:
1/2 cup evaporated milk
1 stick margarine
1 tsp vanilla
1/2 cup sugar
Directions
Preheat oven to 350 degrees. Mix all of the cake ingredients together in a mixing bowl, except the brown sugar. Pour into a greased 9x13 baking dish. Sprinkled brown sugar evenly on top. Bake for 35-40 minutes.
When cake is done and still warm, in a saucepan, combine the drizzle ingredients and heat through on med-high heat until sugar is melted. (about 3-5 min) When heated through, pour over prepared cake. Allow time for the cake to absorb all of this delicous goodness for about 20 minutes. Serve warm with a side of vanilla ice cream or dollup of cool whip.
Gluten free: use GF all purpose flour and a bit less of the drizzle topping, otherwise the cake will be a bit too mushy in the end. For some reason the GF cake mix does not absorb the drizzle quite the same as a regular cake would.