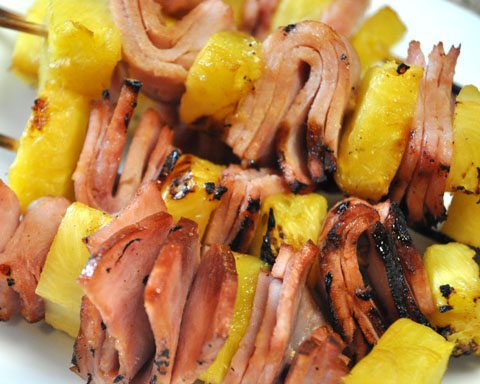 Easy and delicious!! Especially if you are like me and tend to have leftover ham around your house often. Give this one a shot! Perfect for summer time grilling!
Ingredients
Ham cubes (or slices)
Pineapple (pre-heat if fresh)
Skewers
1/4 Cup Pineapple Juice (pre-heat if fresh)
2 T Soy Sauce
2 T Brown Sugar
Ginger to taste
Instructions
Place ham and pineapple on skewers.
Mix juice with remaining ingredients.
Marinate for 2 hours.
Baste on the grill
Grill until heated through
TIP from goodnessgracious.com (and trust me you will want to follow this!): If using fresh pinneapple, preheat in microwave for 30 seconds before adding to skewers so that it does not tenderize the meat and break it down. Canned pinneapple should not have this problem.
Gluten free: use GF soy sauce, such as La Choy.
Recipe adapted by
goodnessgracious.com
from:
http://goodenessgracious.com/2012/04/ham-pineapple-kabobs.html
Photo from goodnessgracious.com