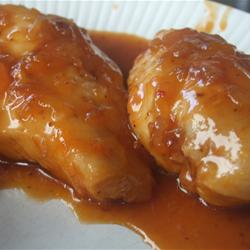 Don't let the name fool you, it is not JUST apricot chicken. However, I grew up eating this dish my entire life and that's just what my mom called it, so there you go. :) I absolutely love this recipe. It is one of my favs that I turn to frequently. And it is so easy. With very little ingredients required. Yes! Like I said, I love it, my family loves it, my husband loves it. It hasn't failed me yet! :)
Ingredients
4-6 uncooked chicken breasts
(or thighs, drumsicks, whatever chicken you like- I have tried them all!)
1 jar of apricot jam
(or apricot-pinneapple which is just as yummy)
1 bottle thousand island dressing
1 packet lipton onion soup mix
Served on top of white rice (I prefer jasmine rice myself).
Directions
Preheat oven to 350 degrees. In 9x13 baking dish, place your uncooked chicken. In mixing bowl, combine jam, dressing, and soup mix and pour over chicken, making sure to coat each piece. Cover and bake for 1 hour. Serve the chicken and all of that yummy sauce over white rice.
Gluten free: double check your thousand island dressing and I used Kroger brand Onion Soup Mix.
Recipe from my Mother- Photo from dinnertrade.com